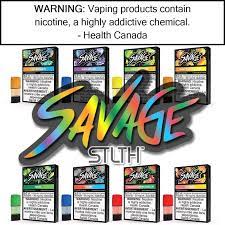 Stlth Pods Third Party
Stlth Pods
Japello's Tropics
Escape into the tropics with this banana, pineapple juice with a touch of coconut goodness!
Japello's Helen's Melons
Candied Watermelon
R.E.(Skittles)
A rainbow explosion of bright, ultra-fruity, sugary, sweets that will leave you with a deep craving for more
S.O.I Berry Blend
A perfect blend of wild berries with a hint of dragon fruit.
Lemon Ice
Cheek puckering lemon, lip licking lime with a refreshing chill.
Peach Mango
Peach Mango Slushy
Citron Melon
A fine blend of melons topped with the zest of a lemon.
Confusion
A mix of mangosteen, raspberry, lime, grenadine and grapefruit.
Savage Power
Sweet and sour oomph to keep you going all day
Savage Strawberry Kiwi Watermelon
A delicious blend of ripe strawberries, kiwi, and juicy watermelon
Savage Mango Peach Pineapple
Ripe mangoes accented with notes of juicy peach and zesty pineapple
Savage Grape Apple Ice
Sweet grape and sour green apples blended over ice with a frosty finish
Savage Strawnana
A classic sweet strawberry and banana blend
Savage Rocket Popsicle
Red, white and blue iced to perfection
Savage Blood Orange Ice
Juicy blood orange with a cool exhale.