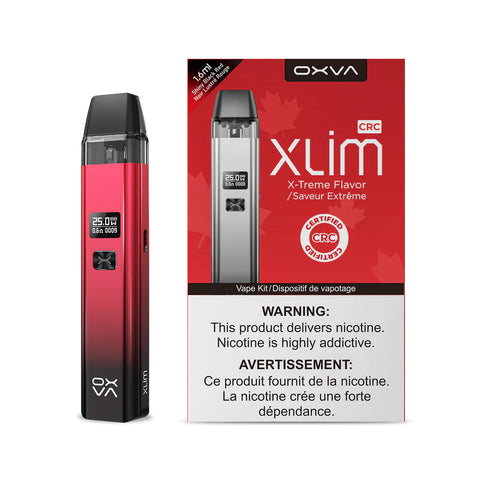 OXVA - Xlim Refillable Pod Device
The Oxva XLIM Pod is your gateway to an X-treme vaping experience. With its compact design and powerful 900mAh battery, it's the perfect companion for those seeking intense flavor and a strong throat hit. The upgraded V2 cartridge is now highly leak-resistant, ensuring a hassle-free vaping experience. Plus, the new 0.6Ω cartridge is perfect for both freebase and nic salts, giving you versatility in your vaping choices.
OXVA XLIM POD KIT KEY FEATURES:
Highly Leak-resistant:

 

Say goodbye to messy leaks with our anti-leak design.
Auto-draw & Manual:

 

Choose your preferred vaping style.
Xlim V2 Cartridges:

 

For exceptional flavor delivery.
25 Max Output Power:

 

Customize your vape intensity.
0.42" OLED Mini Screen:

 

Keep track of your settings with ease.
Ergonomic AFC:

 

Find your perfect draw effortlessly.
OXVA XLIM POD KIT TECHNICAL SPECIFICATIONS:
Dimension: 24.014.0111.0mm
Weight: 45g
Output power: 5-25W
Cartridge capacity: 2ML
Battery capacity: 900mAh
Screen size: 0.42-inch
Material: Aluminum alloy+PCTG
Charging: DC 5V/1A, Type-