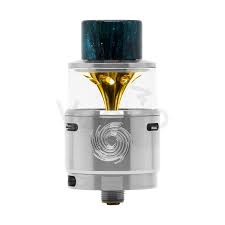 Innokin - Thermo RDA
Innokin Thermo RDA! The innovative Windstorm System whips up clouds of vapor in the Cyclonic Chamber, bringing a combination of massive clouds and optimal flavor! The Cyclone Design also act as a spit-back guard for anti-spitting! The Velocity-style build deck and clamp-style posts makes coil-building more easy than before. The pack also comes with a BF(bottom feeder) pin, so the Thermo RDA is compatible with most squonker MODs too. Two diameter of 25mm and 27mm for your selection. The color of resin drip tip is random.
Parameters
Drip Tip: Wide bore resin drip tip
Build Deck: Velocity style deck

Features

Windstorm Cyclone system for anti-spitting
Dual-post clamp style build deck for easy building
Changeable Velocity build deck with 2.5mm holes
Attached bottom feeding pin for squonker MODs
Deep juice well for ample e-liquid storage
It comes with
1 x Accessory and tool bag(extra Velocity posts, BF pin, screwdriver, screws, coils, o-rings,cotton)
Notes
The color of resin drip tip is random.